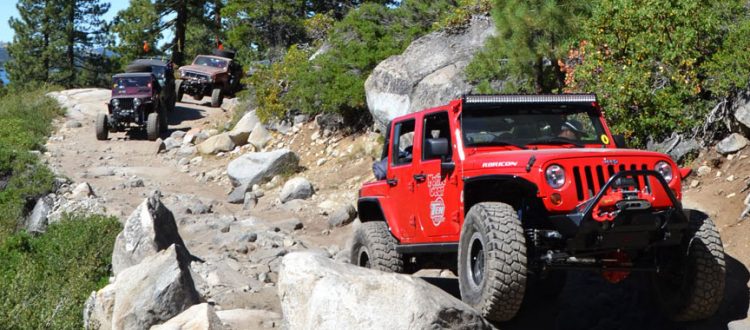 Rubicon Trail with TEN Factory
The Rubicon Trail, located between Georgetown and Lake Tahoe California, is home to some of the most breathtaking and rugged terrain available to four-wheelers. The 22-mile long Rubicon Trail began as an old Indian trade route that grew into a stagecoach trail that dates back to California's Gold Rush days.  While the first vehicle on the trail dates back to 1908, since 1953 the Jeepers Jamboree group has been running two guided trips per year. There are other well-established groups that offer guided trips on the trail.
Jeff Belknap, product manager for TEN Factory, joined the 64th Jeepers Jamboree run of the Rubicon Trail, with a goal of testing TEN Factory's line of performance axles on our 2014 Jeep Wrangler JK Sport.
In order to prepare our Jeep for the rugged trail, Jeff installed Motive Gear 5.13 ratio ring and pinion gears and TEN Factory's chromoly axles in the front and rear axle housing. TEN Factory offers one of the longest warranties in the industry, 10-years! In addition to upgrading his axles and ring & pinion gears, Jeff also installed 37" trail-worthy tires, an aftermarket winch and bumpers, plus a lift kit.
"The Rubicon Trail is on every jeeper's  bucket list, including mine." says Jeff, "We discussed the upgrades in the office and decided to go with a 5.13 gear ratio, in order to balance highway driving with what I wanted to off-road." As there is always a trade-off between increasing vehicle performance and fuel economy, TEN Factory recommends discussing your driving requirements and how you plan on using the vehicle with the company you are buying the parts from or your installer, before making any purchases.
In order to help our customers learn what their options are for upgrading their Jeeps for off-road use, TEN Factory's customer service experts developed this list of recommendations:
TEN Factory Performance Axle Kits
POWERTRAX
Differentials
DROP-IN LOCKER
LIMITED SLIP
Model
Year
Front
Rear
Front
Rear
JK Rubicon
'07-16
– –
– –
– –
– –
JK Non-Rubicon
'07-16
– –
– –
GT443027
GT434430
TJ
'97-06
2210-LR
2410-LR
GT443027
GT444430
TJ Rubicon
'03-06
– –
– –
GT434430
GT434430
Unlimited LJ
'04-06
2210-LR
2410-LR
GT443027
GT444430
Ultd LJ Rubi
'04-06
– –
– –
GT434430
GT434430
YJ
'87-95
2310-LR
ABS = 2310-LR
GT443027
GT443527
YJ
 '87-95
 2311-LR
ABS = 2311-LR
 GT443027
 GT443527
CJ-7
'80-86
2210-LR
1710-LR
GT443027
– –
Cherokee
'84-01
2210-LR
1230-LR
GT443027
GT308229